"OK I'm going to do it….
I decided it's time after the earlier injury with Penny to get back in the saddle"  :-0
That's exactly what Mary told me before we ended up at the John Bennett Stables in Putnam CT Saturday.
Now I certainly wasn't thrilled to spend a part of my Saturday in a barn with a bunch of horses. Especially since I'm allergic to those big furry beasts and after all it's almost spring, I can think of all sorts of things I'd rather be doing around the yard.
BUT it was a rainy day and I thought a break from working on the equine supplement web site made sense.
So needless to say I wasn't thrilled when we turned on to Pierce Rd in Putnam CT and we drove up to the horse stables.
As I pulled myself out of the car and into the rain, the 1st thing I noticed was an incredibly green pasture surrounded by impeccably built stone walls.
We wandered into the barn and I stood face to face with a Morgan called Spitt'n … He gave me a welcomed look and seemed to invite me in.
Really this animal had a look in his eye and a manner in his movement that caught me totally by surprise.
Mary introduced me to Spitt'n and Kay. Spitt'n would be the "horse power" for todays lesson and Kay is the trainer who also happens to be John Bennetts daughter.
First thing I noticed was how young Kay was. Second thing I noticed was how polite, gentle and incredibly knowledgeable she was too. I was shocked to find out she had been doing this kind of thing for over 14 years. (she looked so young) But I suppose truth be told her Dad IS John Bennett and she had (according to Mary) the luckiest child hood ever.
When Mary researched the barns around the area (that offered driving), John's name came up over and over again and always in such glowing terms. Here's a guy that seemed to be an incredible trainer and an all around good guy.
Now I didn't have the opportunity to meet John…. but his daughter Kay was incredible. She was bright, articulate, warm and genuine. This little saturday trip was beginning to turn out really well.
Here's a short video of what happened: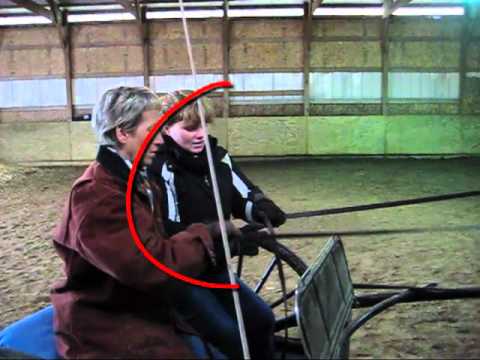 I watched Kay take Mary through the entire experience.
I saw how Mary glowed after the lesson.
AND Kay was kind enough to offer to take me around the indoor as a passenger, so I climbed in, hunkered down and expected the worse…
Boy was I mistaken.
Kay was awesome, Spitt'n was a real gentlemen and I enjoyed the ride and the education that Kay shared with me.
So if you're looking to learn to drive a horse or spend time with a wonderful trainer that know's her stuff and can read people as well as she can read horses. I enthusiastically recommend you visit the John Bennett Stables and ask for Kay. It'll be a Saturday afternoon very well spent!
Now let's see what else Mary has in store for me 🙁
John