A
t the barn we have a draft called Sweetie.  She is one MASSIVE girl. But she's gentle and certainly lives up to her name. Ultimately though regardless of their size horses can be dangerous.
I'm especially wary of the ones that are skittish,
poorly trained, young or their hormones are raging
Which leads me to Baby Bella…
Mary and I were fortunate enough to be at the barn when our farrier, Eric Hoxie (a local farrier from Red Oak Stable, Lebanon CT) was finishing up.
With Marys condition and my deep respect for these large 4 legged creatures, I had to ask how do you walk a horse safely?
In my mind I always thought it was the big boys
and girls that were the challenge… Not the little or the young ones
In the video below,  Eric is explaining how to be safe and create a boundary when walking your horse. His partner in this episode is baby Bella. 
She's a young hanoverian who is quite good for her age and like us, still learning 🙂
Eric also explains the proper way to back up a horse so that the horse can physically back up comfortably.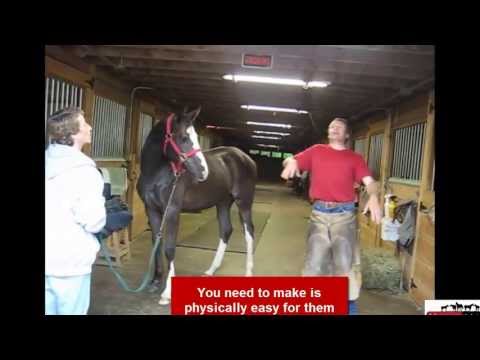 Note
My favorite part is creating the boundary using visual cues

It's easy to understand and easy to implement, but miss this piece and you could get seriously hurt.

If you need the services of an exceptional ferrier and you're in any of the towns surrounding Lebanon CT, I can't recommend Eric enough. He's excellent at what he does, understands horses (from a natural perspective) and is as you can see very helpful and very knowledgeable.

If you want to reach Eric his # is 860-642-4671

It was an education for me…. that's for sure!
Husband of a horse mom
Here's some great articles I think you'll enjoy…
Hoofbeats and hatchbacks – The Detroit  ews http://www.detroitnews.com/May 9 George Phifer of Southfield takes his 23-year-old Morgan-Arabian mix horse, Knight, out for a walk to get him used to being in the city. The unusual part was the horse…
Ten Horse Training Tips For Success and Eliminating Fear | Polylast … Walk with a straight posture and look where you're going. … Walk backwards away from your horse (again putting yourself in front of the horse) and lift both hands up and breathe. 4.
Horse gait http://www.wikipedia.org/wiki/Horse gait