Just as people can benefit from herbal supplements, so can horses.
An increasing number of natural herbal horse supplements are available for the equine species including:
digestive supplements
feed supplements
energy supplements
Horse owners can grow their own herbs and feed them to their horses themselves, plant herbs as part of a pasture mix for grazing.
They can even take advantage of some of the many equine herbal brands that are on the market and available at feed stores and through online sites.
While horses love to munch fresh herbs straight from the garden, commercial supplements have some advantages.
There is only one brand (Animal Kingdom Organics) that comes in pellets that can be easily added to feed, the dosages are standardized making over medication less likely, and there is little chance of feeding the wrong kind of herb to the horse and causing an adverse reaction ( as long as you read and follow the directions on the package).
A Few Kinds of Herbal Treatments For Horses
Here are a few categories of herbs used for horses:
 Bitter herbs help to promote digestion primarily by stimulating liver function.
Digestive tonics ease tension in the digestive tract allowing the horse to better utilize its feed.
Alternative herbs help purify the blood by increasing the elimination of waste through increased function of the kidneys, spleen and bowels.
Herbs Commonly Used for Horses
[hilight color="F3FC68″]Horses are natural herbivores[/hilight], and they crave a variety of plants for treating illness as well as for getting the minerals and vitamins that might be lacking in their usual feed source.
 Some herbs that work well for horses include:
 Peppermint and spearmint
Herbs that have a relaxing effect on the digestive tract of horses as they do for humans. These herbs can also be incorporated into salt licks.
Garlic
Can stimulate a horses appetite and has powerful anti-microbial functions that are useful for fighting and preventing infections.
Fenugreek
Conditions coat and hoof, but it should not be used with  pregnant mares because it stimulates the uterus. It is useful, however, for mares that are nursing because it increases and eases milk flow.
Nettles
Are high in minerals, especially iron, calcium and potassium making this herb useful in treatment of anemia.
Stevia leaf
Is a naturally sweet herb that has very few calories. It assists in restoring blood sugar levels and can be a useful feed supplement for horses that like a sweet feed but do not need any extra calories.
These are only a few of the many herbal treatments that can be used with horses.
The health of your horse can be greatly improved by adding a few of these natural remedies to its usual feed regime.
Natural herbs were once a part of the everyday diet of horses before they became domesticated
Herbal supplements are a safe and natural way of improving your horse's health. By adding these herbs back into your horse's diet, you will have a happier and healthier horse.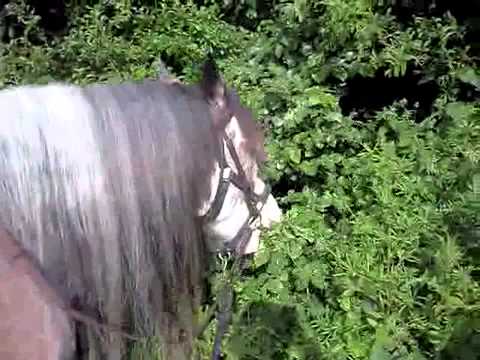 Besides nutritional supplements for horses, there are also natural: hoof oils, fly sprays, insect repellents for barns, and high quality, unrefined salt licks for managing your horse's other health needs without the toxic side effects of synthetic products.
Keep them safe,