I could've really hurt my girl Penny today
---
So please don't make the same mistake I almost did…
Here's how it started…
Some days I help get Penny ready for her training session.
That means brush, spray, pick … I'm sure you know the drill.
Being a good horse husband I always do a little research on these kinds of things…- horse husband
  I found a boatload of videos and a couple looked pretty darn good from my un-educated view.
So at the training session I was all ready to slap boots on that horse and get her saddled up.
Thank goodness Kevin (Marys trainer) was there to set me straight.
I thought boots were used to wrap around the leg just to protect them.
What I found out was…
There's a "splint" built into the boot that actually gives functional support to the horses leg
Here I was paying more attention to how the curved portion "cupped" Penny and didn't even realized that the splint existed.
Here's how Kevin did it
---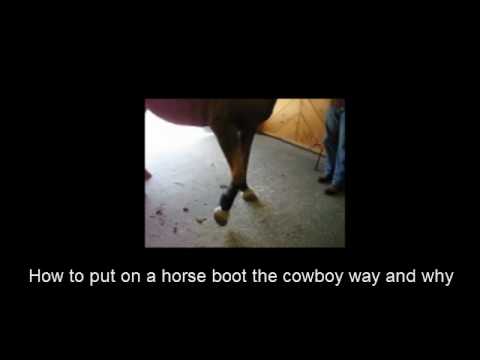 What I liked the most from what I learned from Kevin was:
he showed me HOW to do it

he explained WHY he did it

and he showed me fast and easy, so even I could do it
If you're helpin' your wife and you screw up… you know what that's like 🙁
So have a look at the video and watch the right way to put on your  horses boots.
Your wife will love you 🙂
John