My Hay Addiction!
And Some Of The Nicest Hay Farmers/People I've Ever Met
Saturday started out sunny but cold.
I was rushing to get my barn chores done so I could get some much-needed hay for my 2 horses Penny and Bella.
I don't know why but I love to go get hay

---
My husband says I'm obsessed when it comes to hay.
He's right! I get excited when I see good green hay that smells good.
Only the best for my girls!
Here's a short video below that introduces you to my babies.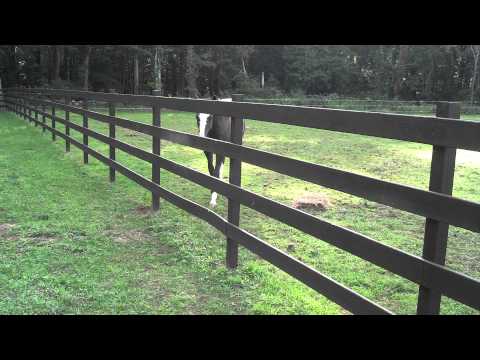 This day my search for hay
takes me to Pakulis Farm  
in Brooklyn Connecticut
I heard about them on Facebook and I learned they not only sell hay, but they also sell a variety of vegetables all grown on their farm.
Here's what's popping up in their "back yard" while you and I have almost 2 feet of snow in ours.
I message them right away to see if they had any hay available.
Being January a lot of farms in my area were already sold out.
Fortunately they said they would have some hay in from New York and I could stop by.
Now NOT all hay is created equal… But I'll leave that post for another day 😉
So off to Pakulis Farm. When we arrived,  my truck started to smoke clouds of white billowing out of the exhaust. We quickly turned it off and tried to start it again but it did the same thing.
We checked and found there was no antifreeze in the radiator.
We called AAA and a tow truck came out and took the truck and us back home minus hay.
Turned out it was a blown head gasket and all that antifreeze had found it's way into the engine… that was all the white smoke, combusting anti freeze). Our hay truck was off to see TMR Auto for repair.
It was a sad hay day…
Not want to give up on getting hay because I'm really excited about getting it (all the time) I called my mom and borrowed a truck. (I told you I had an addiction)
We went back to Pakulis Farm and pulled up to the barn.
The grandson Dale came out and said I can load you up with the hay but first let's put some air in your back tire.
My husband and I looked down and we notice the tire was indeed flat. How could that happen?
What are the odds that two trucks on the same day trying to get hay and have problems?
But Dale was great, he got the air compressor hose and filled the tire. Unfortunately almost immediately, it started to deflate again. The only solution was to change the tire.
Dale once again being ever so kind said he would help.
I've never been to a barn
where the owners been
so helpful and kind


---
By this time Dale's grandfather Lou came home and also helped out.
We had Dale and Dale's girlfriend Mary helping us too.
You can't beat their hay, their hospitality or their genuine caring for people. They are absolutely wonderful people!Mary
It was great, with there kindness and generosity were able to get our tire fixed and get the hay I needed.
I would absolutely recommend pakulis farm in Brooklyn Connecticut to get hay.
You can see them at their Facebook page Pakulis Farm.
In the summer they sell vegetables and different kinds of squash in addition to a great place and what absolutely tremendous people.
So plan a trip to visit them this summer !
Here's a map to help find them.
Just click the address link below and you can get directions right to their door step.
63 Creamery Brook Road, Brooklyn, CT 06234
Pics from the Pakulis Farm Facebook page
[wdca_ad id="3047″ ]